Fine Art Prints
All of the images on this site are available as original fine art open edition Giclee prints. The majority of the images are documented on 4x5 transparency film, which is 16 times larger than 35mm transparency film. The size of the film delivers unrivaled quality to enlarged photographic prints. The printing method requires the original transparency to be scanned on a high-resolution drum scanner to obtain optimal sharpness and color.
The digital files are finalized on a calibrated computer monitor prior to being printed on inkjet printers, which utilize seven pigmented inksets. The estimated display permanence ratings for archival pigmented inks on premium matte and semi-matt archival photographic papers behind UV-filtering glass is over 100 years (Wilhelm Imaging Research, Inc.).

The Giclee inkjet printing process is meticulous in detail and color rendition, and is much more environmentally friendly than traditional chemical based photographic prints.
All prints have a generous white border to aid in matting and framing. Currently we offer fine art prints only, without matting or framing. All prints are inspected and hand signed on the front margin by Gary.
*Custom sizing is available upon request.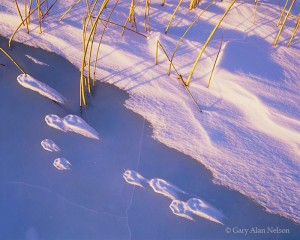 Upon Receiving Prints
The print packaging should not be opened and the print should not be inspected until you have a large and clean table to view it on. Prints, especially large ones, are difficult to handle and kink easily. Avoid touching the surface of the print or moving it around excessively. A professional framer is adept in handling prints and can ensure it is properly cared for while it is being matted and framed.
Return Policy
We are confident you will be happy with your fine art print, and have been diligent in the printing processes to ensure it is of the highest reproduction quality. Gary will not sign any print he deems inferior.
If you are not satisfied with your fine art print, please email us for a return authorization. You may return your purchase, in its original condition and insured for its full value, within 30 days. We will issue a full refund, less shipping and handling.