News from Gary Alan Nelson
2015 Art Fair Schedule
Art on the Square, Belleville, Illinois
May 15, 16 & 17
http://www.artonthesquare.com
Iowa Arts Festival, Iowa City, IA
June 5, 6 & &
http://www.summerofthearts.org
Art Fair on the Square, Madison, WI
July 11 & 12
http://www.mmoca.org/art-fair
Powderhorn Art Fair, Minneapolis, MN
August 8 & 9
http://www.powderhornartfair.com
Wausau Festival of Arts, Wausau, WI
September 12 & 13
http://www.wausaufoa.org
4/23/14: 2014 Art Fair Schedule
Here is a list of the art fairs I will be attending this year. There may be one or two others. I'll add them if I am juried in.
Iowa Arts Festival, Iowa City, IA
June 6, 7 & 8 http://www.summerofthearts.org
Art Fair on the Square, Madison, WI
July 12 & 13 http://www.mmoca.org
Art Splash, Sioux City, Iowa
August 30 & 31 www.siouxcityartcenter.org/artsplash/
Festival of Arts, Wausau, Wisconsin
September 6 & 7 www.wausaufoa.org/
4/25/13: 2013 Art Fair Schedule
I have been invited to participate in the following art fairs for the 2013 season:
Iowa Arts Festival, Iowa City, Iowa
June 7, 8 and 9 2013
ArtFest Midwest, Des Moines, Iowa
June 20 and 30, 2013
Art Fair on the Square, Madison, Wisconsin
July 13 and 14, 2013
Oconomowoc Festival of the Arts, Oconomowoc, Wisconsin
August 17 and 18, 2013
Wausau Festival of Arts, Wausau, Wisconsin
September 7 and 8, 2013
4/3/13: New Portfolio
Check out the new portfolio, Cognitive Acuity. The images in the portfolio offer up a fare of popular photographic techniques: shape, form, patterns and texture, all presented in a kaleidoscope of weather worn colors. Try and find one of these when you're out walking around in your favorite National Park.
10/27/10: More images and other things
I have added more photographs taken this summer in Nebraska, Colorado and Utah. A few years back I got a professional grade digital camera and although I still use my 4x5 I am getting spoiled by the ease of use and low weight of the digital. The images from the digital won't match the quality of the 4x5 when enlarged for fine art prints (the 4x5 gives better depth and detail), but it does well for smaller jobs. I brought both cameras with on the trip and although I promised I would utilize the 4x5 more than the digital, the opposite came true. As my knees and back age and the price of film and film processing rise I'll probably be using the lighter tool more frequently than the heavy one.
3/29/10: Florida
A recent trip to Everglades National Park and Big Cypress National Preserve provided much need warmth and numerous photo opportunities. I have never traveled to these places and am now wondering why I took so long to visit. Being from the MIdwest I am accustomed to shooting in landscapes that provide open and relatively flat horizons with which I am able take full advantage of early and late light. The Everglades and Big Cypress had about as much horizon as you can ask for.
2/18/10: Vintage Tractors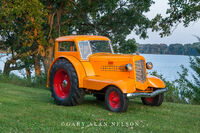 Check out the Vintage Tractors gallery under Americana. There are nearly 100 vintage tractors on display, all painstakingly restored to their former glory. Look for additional machines in the future,
2/17/10: Americana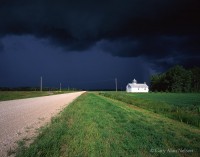 I have added a new portfolio called Americana. In the portfolio are images depicting classic American scenes that have been engineered by the hand of man. Sub-Portfolios inside of Americana include Lighthouses, Barns, Rural Routes and Historic Sites. I'll be adding more in the future.
1/28/10: Images from the archives
A number of 4x5 transparency images from my stock files have been added to the Minnesota portfolios of Canoe Country, Lakes and Streams and Lake Superior. I have thousands of images in my stock files and I'm in the process of selecting which images to include on the website. I will also be adding a few new galleries soon. Although all of the stock images are very familiar to me, they seem to take on a fresh appearance on the website.
1/14/10: Lost and Found
I found a nugget of gold while cleaning an external hard drive the other day, a folder full of forgotten images I had taken on a canoe trip in 2008. How can I have forgotten about a folder full of images? Well, I had filled a half dozen cards from the trip for a photo assignment I had done on a certain lake in the Boundary Waters Canoe Area Wilderness in northern Minnesota. Prior to arriving at the lake I had been assigned to photograph, I took a number of images of a lake I had to cross while enroute. I set these images aside when I got home and focused on the ones that I needed to get done. One thing led to another and before you know it the folder was buried amidst a growing pile of other folders. I was bewildered as to how I had neglected to process these, but at the same time elated that I had some nice new stuff. These photos make me want to return to canoe country, but it will be another 3-4 months before the ice is off of the lakes. In the meantime, perhaps I will unearth more gems from my files.
1/7/10: More images uploaded!
I have uploaded a number of new Minnesota images to the website and plan on adding more on a monthly basis throughout 2010. Check out the Woodlands, Canoe Country, Lake Superior and Lakes & Streams pages in the Minnesota portfolio and the Panoramic and Abstract portfolios for the new images. Most of the photos were taken last autumn while roaming around northern Minnesota. Next month look for a new gallery that will include images depicting Americana that will include country roads, farms, lighthouses, rural scenes and other images that depict life in rural America. I have also been photographing antique tractors and trucks and may add a gallery of these in the future as well.
4/15/09: New Website
Welcome to the new website of Gary Alan Nelson Outdoor Photography. From time to time this site will be updated with upcoming events and new images, along with anecdotes and thoughts from the field. If you would like to be informed of workshops and art fairs or would like to receive an occasional photo from the field, you can subscribe to my email list on the contact page.